Sometimes, you may need to replace one, two, three or all the pages of your Flipbook.
For example, a current page may have mistakes/typos/conversion problems and you want to reformat your PDF page and update the page in your Flipbook.
Our system allows you to replace pages of your Flipbooks 
Insertion/Removal of pages is NOT supported at this time.  The total number of pages in your Flipbook must not change.
Access the Page Replace Tool
To find the page replacement tool, in your Folder/Flipbooks screen, click on Flipbooks -> Manage Flipbooks (1), Select the Folder of the Flipbook you want to edit (2) - Then select the specific Flipbook (3). With the Flipbook Settings & Options opened - You will be able to click on the Replace Page function.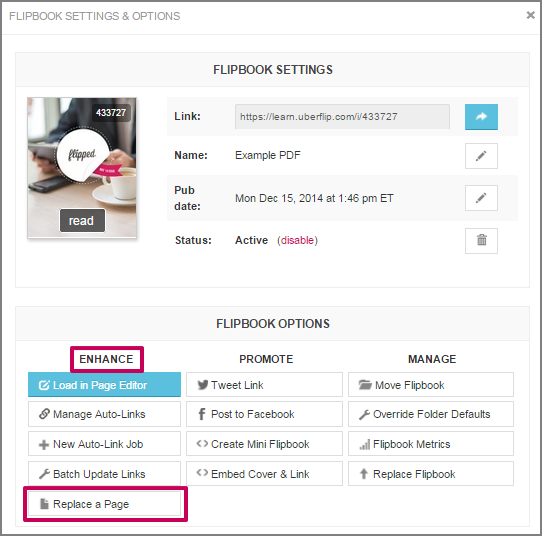 Configure and Submit Page Replace
From there, you just need to (refer to image 2 below):
1. Select target page you want to replace 
If you have set a page offset for your Flipbook, the select page dropdown menu will display as "absolute page [relative page]". 
EG: If page offset of +2 is set a choice could be 1[3]
Confirm you have chosen the correct page to replace by checking the Page Preview below the drop down
2. Select the Single Page PDF you want to use to replace the page
3. Replacement Info
Number of pages already replaced.  Will show total AND a list of page numbers (absolute) already replaced with clickable links to image preview
4. Options
Replace page's links:  Check this box if you want to overwrite any existing links already present in the target page.
Replace page's text: Check this box if you want to overwrite the associated extracted text in the target page.
Update stored PDF (default):  Check this box if you want to also update the PDF file for that page so users who download PDF will see the new page.  Keep this option UNchecked if you want your downloadable PDF to be different than page displayed on Desktop and Mobile platforms.
All Page Widgets already placed on a page will remain after all page replaces.  They must be removed manually if needed in the Page Editor.
5. Once you are ready to replace Click "Upload and Replace" and our system will take over to begin the page replacement
Your Flipbook will show a status of "Replacing Page" and during that time the issue will not be available for viewing by the public. 
The page replace doesn't take long (seconds usually) and once completed, your Flipbook will reflect the new page when you reload your reader.
Image 2