We know many people out there are huge fans of HTML 5, so we've released an option for Customers to choose which version of the Desktop Flipbook is served to their audience, the new HTML 5 or HTML5 (SVG) Scalable Vector Graphics version.
HTML5 Flipbook for Desktop Option Details
This option can be set for any Folder and will apply to all Flipbooks that live under the Folder.
How to turn on this feature:
Edit the Folder and access the Options screen
Change the drop down menu to 'HTML5 or HTML5 SVG"
Save the Changes and all Flipbook/Folder URLs will load up the HTML5 choice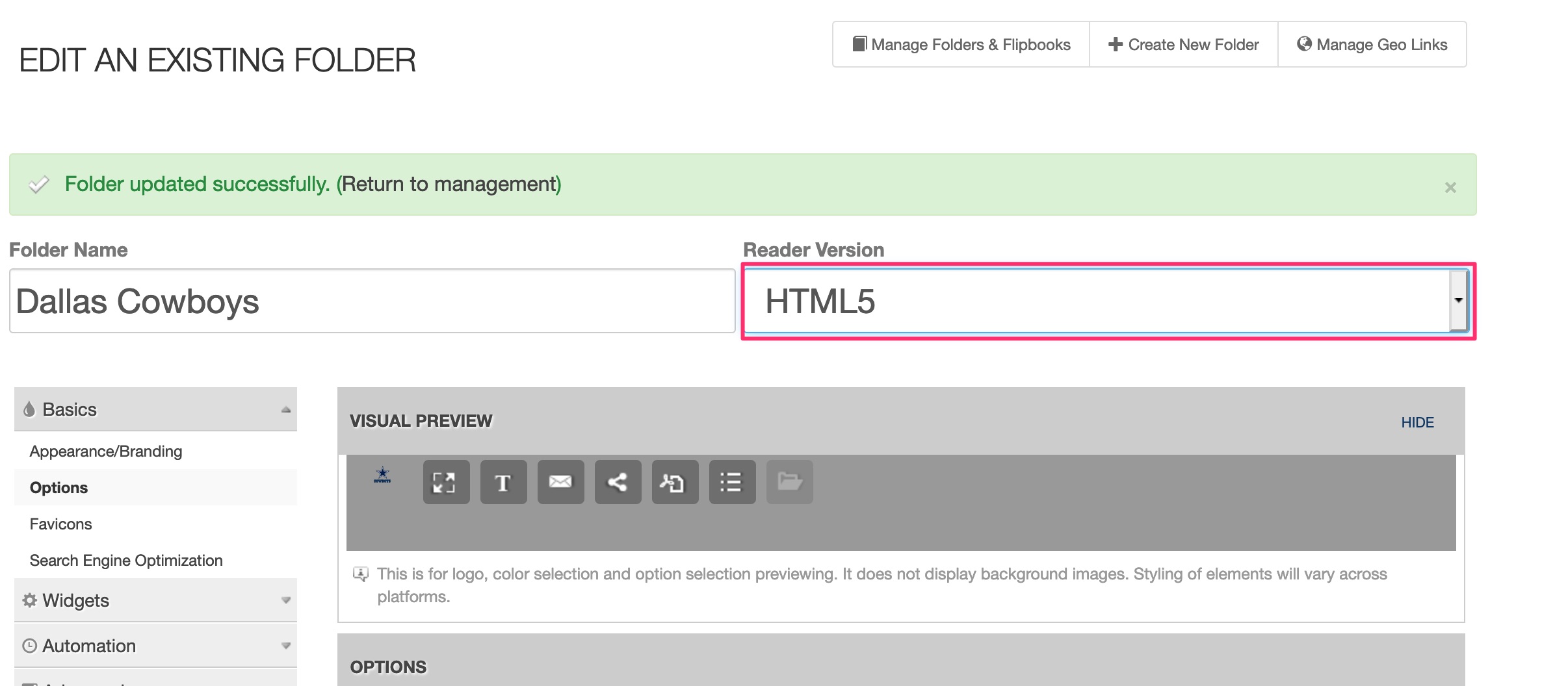 Feature Availability on Flipbook 4 /HTML 5

Some features not available yet for the HTML5 Desktop Flipbook 4 , some of these features will be added to the new version over time, but some may also lose support. This page will note the decisions we make over time regarding those features.
Below is a list of features and options that are not yet available for Flipbook4 HTML 5 for Desktop:
Basic Options
-download select pages (In Development)
-allow printing (with page selection) (In Development)
-default zoom level (In Development)
-option to hide the help button (In Development)
Folder Widgets
-left side custom embed widget (In Development)
Flipbook Subscription and Remote Authentication Features (Released 04/30/2021)
-Subscription/Remote Auth: Preview First X Pages
-Subscription passive email harvest 'subscribe' button
-Subscription 'my account' button
Deprecated features that are only available for legacy Customers. Support not likely to continue for these features on the new version of Flipbook HTML5

-Tabs
-Clippings (and Clippings Folder Widget)
-SWF Flash animations
-Advertiser's index