How do we keep a visitor engaged and wanting more? This is a question marketers are continually asking in their content creation process. It's one thing to get a visitor to land on your asset, it's another to pull them into a desired experience. In today's online environment, to keep your audience's attention your content needs to be original, relevant, and engaging. Lucky for you, Vmags has the functionality to take your content to the next level. Let's first explore why.
Why make your content more visually appealing?
According to Hubspot, people are 6x more likely to remember a piece of information if a relevant image is paired with it, but design and visual content is the biggest challenge for 23.7% of content marketers. If you're able to visually engage your audience with content that is memorable, you're already steps ahead of a quarter of today's marketers. This sounds pretty simple but in practice it can be quite difficult. However, with the right tools in place, this step becomes easy.
Why use flipbooks?
When used for top of funnel marketing, flipbooks provide a well packaged way to inform your audience on a particular topic, giving readers the opportunity to consume in frame or download for later. Further down the funnel, flipbooks with more expected value are excellent pieces to gate and use to collect visitor information (a.k.a. leads). Their versatility means ebooks, guides, brochures, and more multipage assets meet your audience wherever they are in the buyer journey.
How flipbooks are more than just PDFs
So you may be asking why we call them flipbooks and not PDFs? Flipbooks are way more than just a standard collection of PDFs. Flipbooks give you the ability to engage visitors and track that engagement like never before. By adding interactive elements in the flipbook editor tool, your PDFs come alive and develop into true immersive experiences.
Let's dive into five ways you can transform your PDFs through the power of flipbooks.
Embedding videos



We all know videos have quickly become the medium of choice when it comes to content consumption. (These stats speak for themselves.) So why not include them in your PDFs? With the flipbook editor, you're able to easily embed videos anywhere in the document using the video widgets. Pull video from your YouTube, Vimeo, Wistia, or Vidyard accounts and have them start on load or with the play button.

Linking to other pages in the same flipbook





Long PDFs with lots of information can be powerful assets but at times they're a bit overwhelming. To get visitors to click past the first couple of pages, with flipbooks you have the power to add links within the document, helping your viewers navigate with ease. Adding links on the first page, where it's visible, to a later page in the flipbook encourages further content consumption and an interactive experience. You have the option for the link to be highlighted, highlighted on mouse over, or underlined.

Linking outside of the flipbook



We are all familiar with adding hyperlinks in our blog posts and the copy around our flipbooks and videos, but did you know that you can add external links within your flipbook as well? This is a great option for when you want to direct readers to another page with further information, or even better, another relevant asset in your hub. Links are a great way to get more assets in front of your engaged visitors.

Adding social media widgets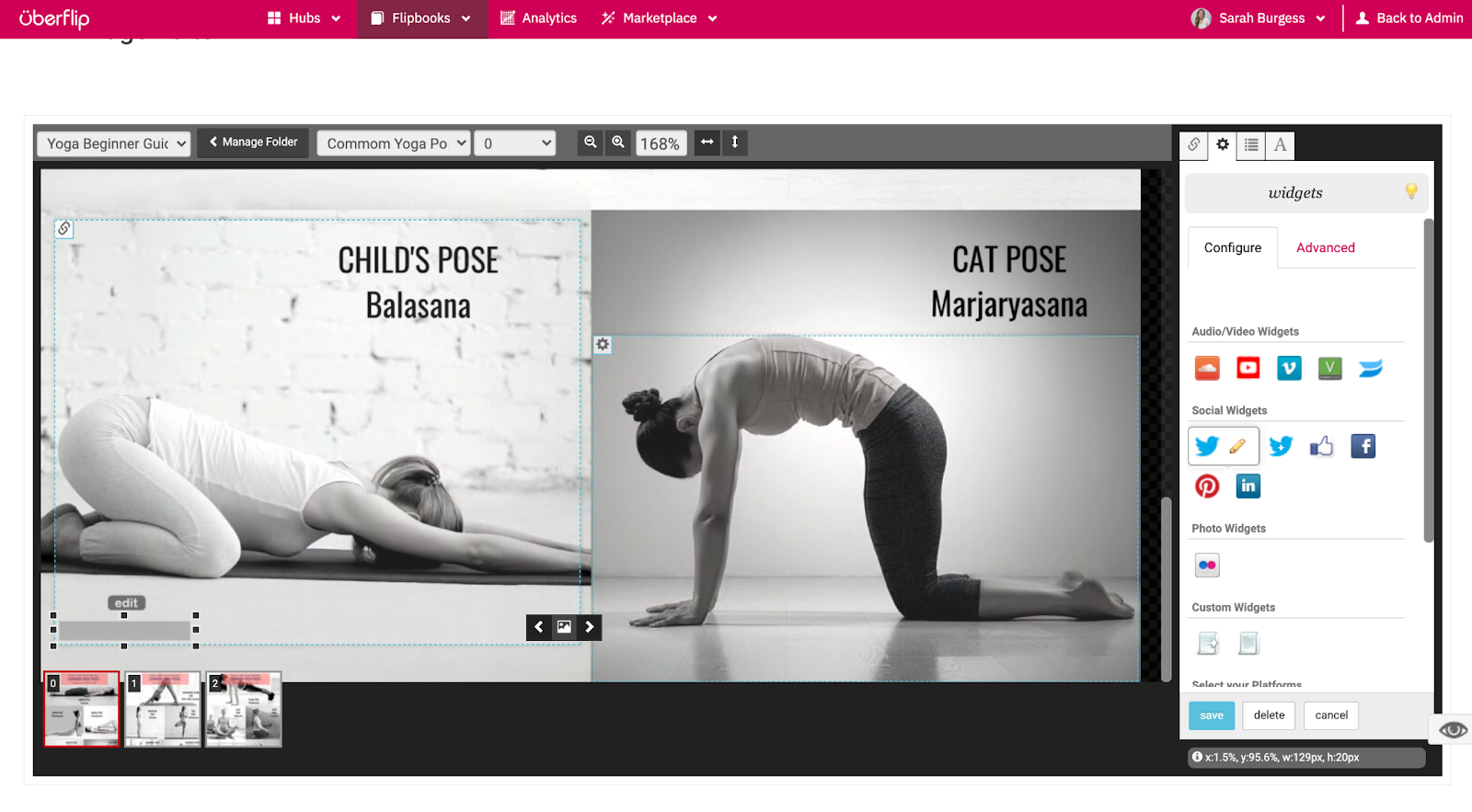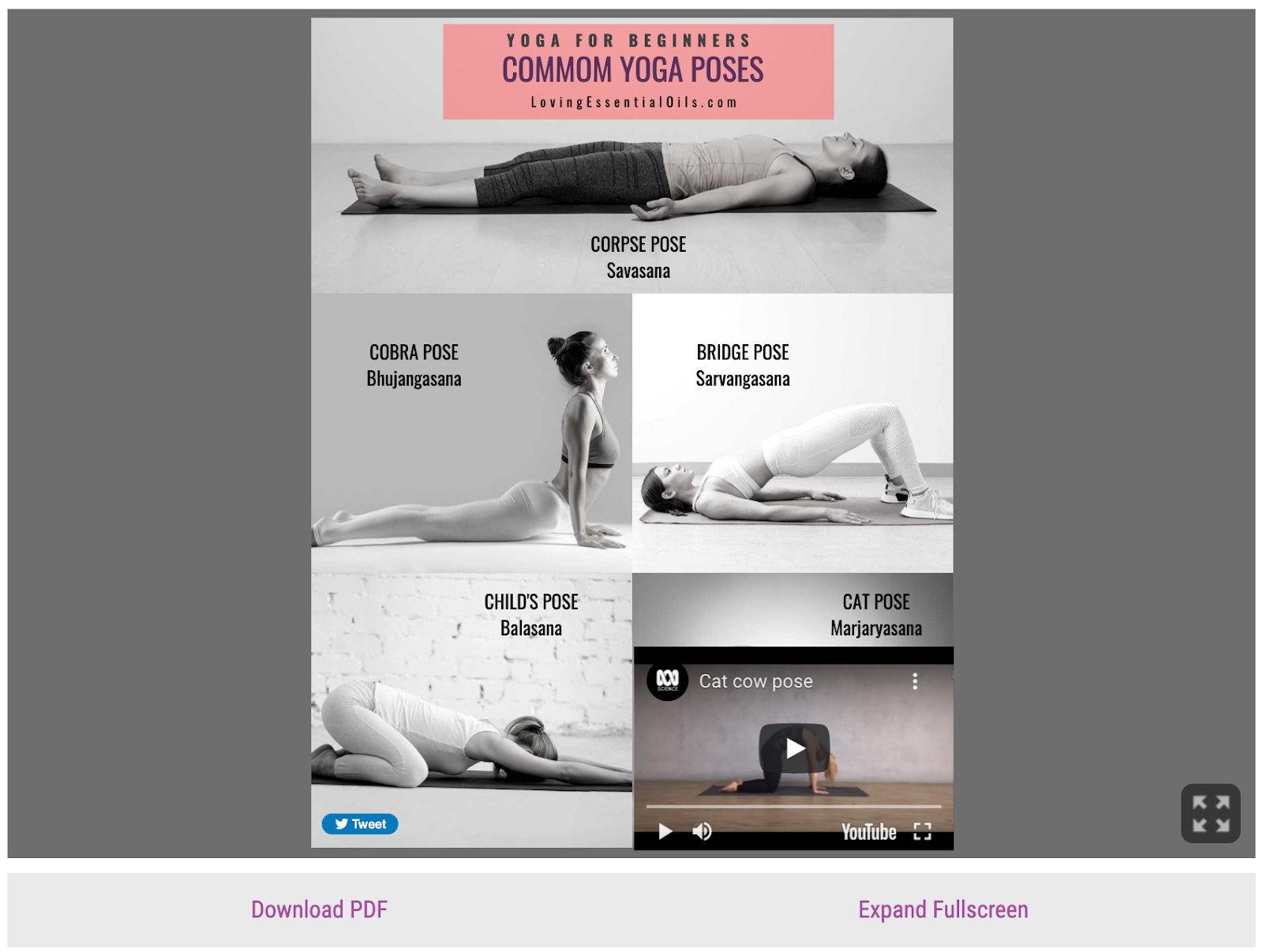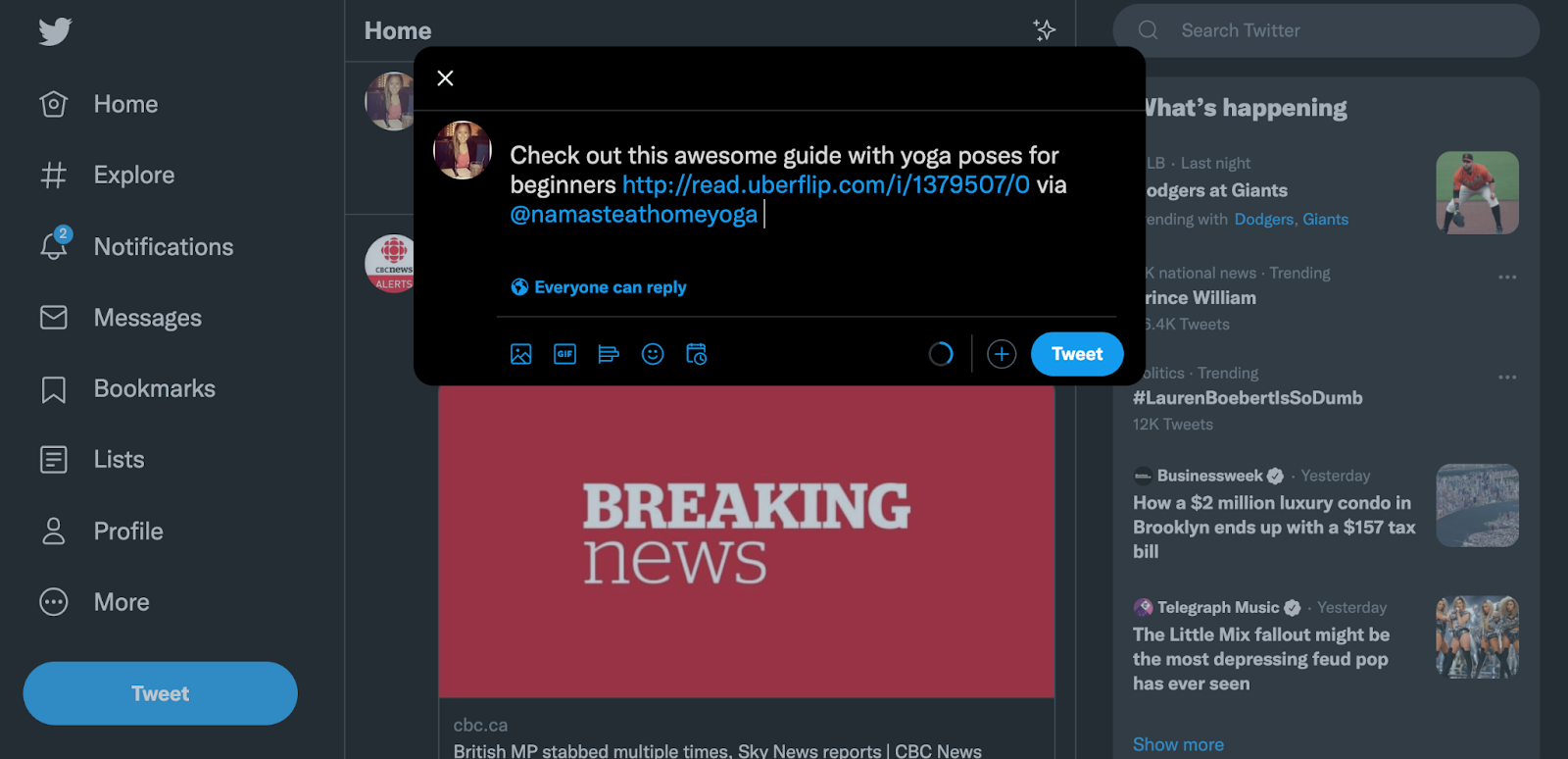 As marketers, we're always looking for ways to expand our reach and share content with new audiences, and one of the best ways to do this is through your existing audience. The flipbook editor allows you to add social buttons to your PDFs so readers can share the piece they're reading, from within the document, with just the click of a button. You can add text and your company handle to help curate the message for your sharer on Twitter, LinkedIn, and Pinterest. The social widgets also allow readers to like and follow your Twitter and Facebook page
5. Building a table of contents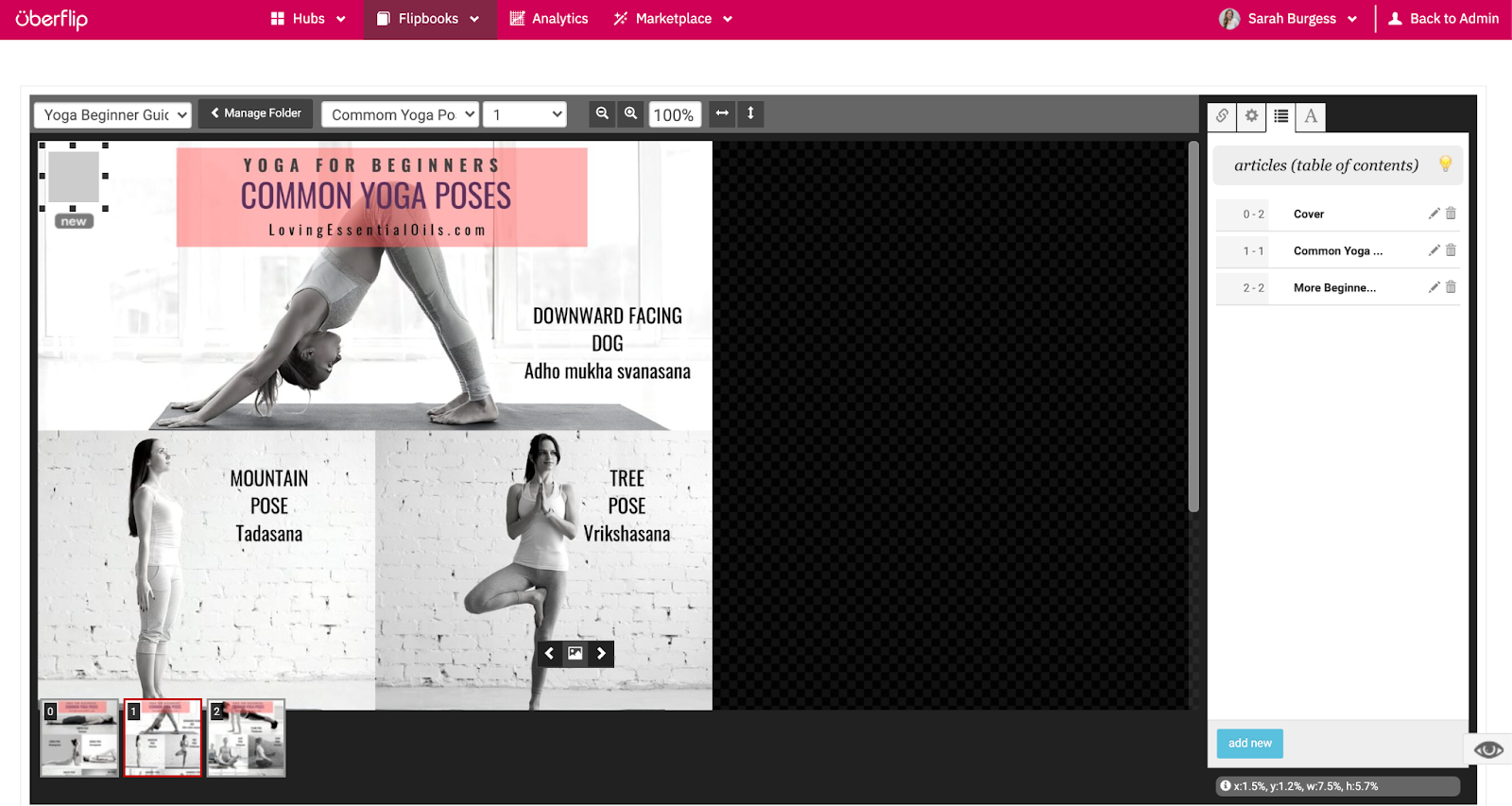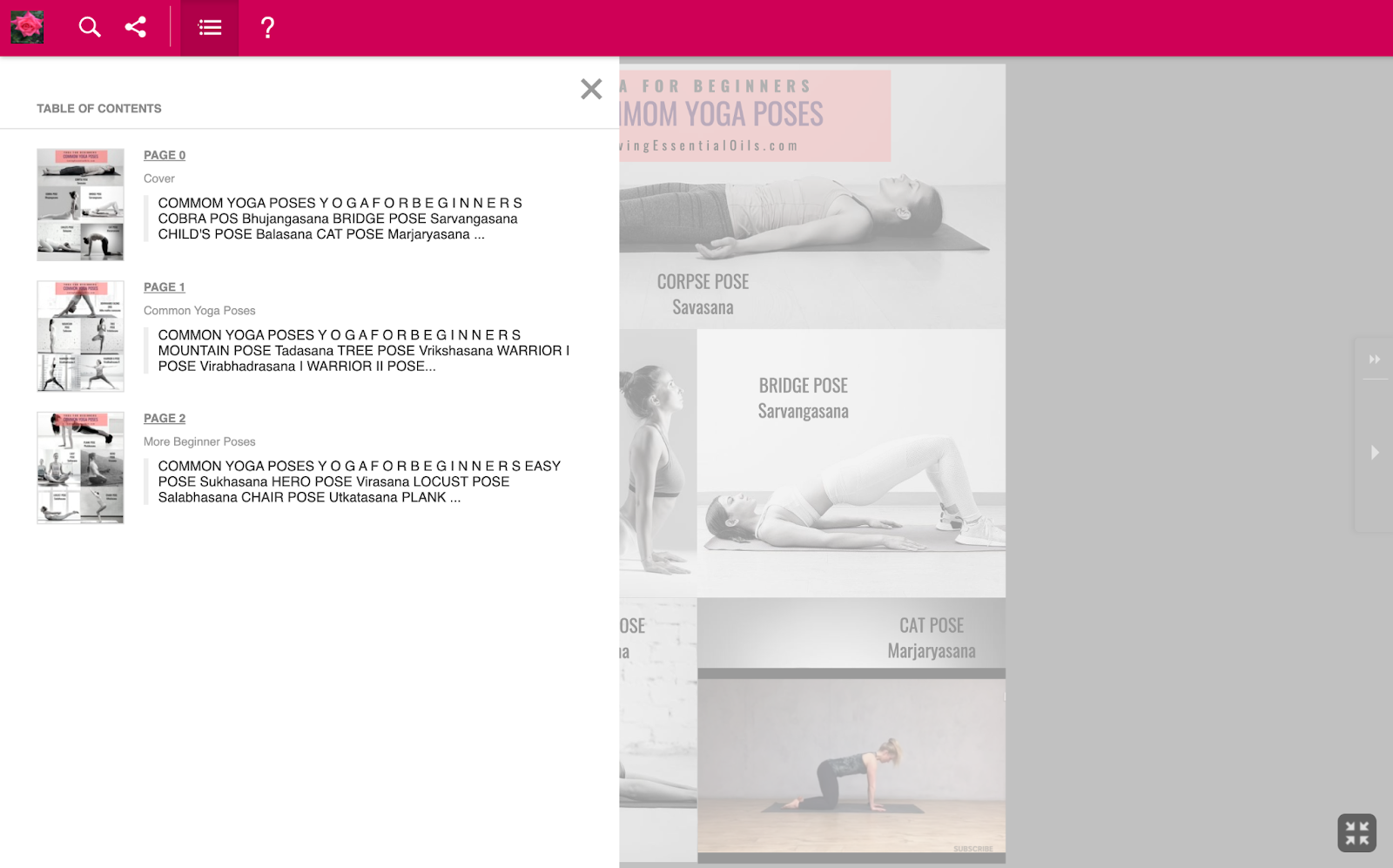 For extra-long ebooks and guides, help your visitors navigate your PDF by adding a table of contents to the viewing options. Set up a link for each page or break the table of contents out by topic, allowing your readers to skip to the sections that matter most to their interests and needs. Ensure your flipbook folder settings are set to show the table of contents in the flipbook options bar at the top of your visitor's screen.
Other powerful benefits of using flipbooks
If you've been using flipbooks for a while, you'll have noticed there are several key analytics that can be gleaned from this unique asset type. Views, downloads, and form CTA conversions are just a few ways marketers analyze performance. The following tips can help you get even more insights out of your flipbooks.
Collect flipbook page views: When your flipbook folders are set to HTML5, you are able to track how many pages visitors consume within the documents because of the "flipping the page" action. When switched to Native PDF viewer, you miss out on these metrics as the PDF is switched to a scroll action.
Set up flipbooks into segmented folders: By setting up your flipbook documents in folders by segment (type, industry, language, etc.) you can keep your documents organized, easily tag the folder using smart filters, and easily report on the segment by analyzing specific folders.
Make updates to flipbooks without losing analytics: If you have made a change to your PDF and want to update it, you can replace just a single page and maintain the analytics collected prior to the change on the flipbook.
If you haven't yet explored the capabilities of flipbooks, we highly recommend you do! There are many options for setting them up to get the most out of your content and, ultimately, isn't that what we're all striving for?