You can change the style and hovertip of ALL the links in your digital edition en masse by using the Batch Update Existing Links power tool
You can get to this tool through the "Enhance" button/dropdown menu to the right of your mini thumbnail in the title view. 
Select "Batch Update Existing Links" option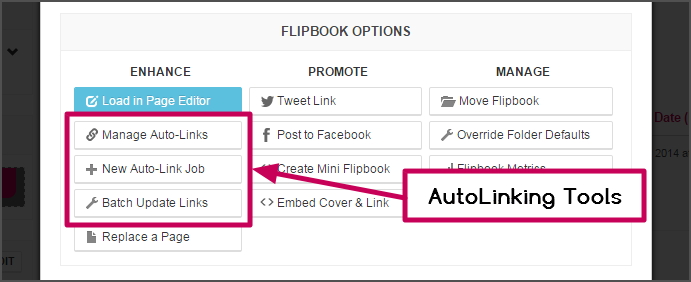 Once you are at the Batch update tool you can do the following (refer to screenshot below)
Choose the Title and Issue that contains the links you want to change
Find Link Style
Choose the link style from the dropdown menu that you want the tool to find and replace with another style OR change its Hovertip
If you want to change ALL link styles OR Hovertips, leave the choice blank (- select -)
Choose the Type of link you want to change
You must choose one of EXTERNAL (websites/emails) OR INTERNAL (page links) to batch update.  Only one at a time.
Replace with Link Style
Choose the link style you want your links to use after the change
Leave the choice blank (- select -) if you don't want to change the link style (Hovertip change only)
Overwrite Hovertip
Enter a value for the hovertip that will replace ALL existing hovertips for your "find" link style you chose in 2 above.
Leave this field blank if you only want to change the link style and keep the existing hovertips the same
Click "submit" when you are ready to make your batch link changes
Batch Update Links Screenshot