Welcome Popup Widget
You can choose to display a popup window when your Flipbook first loads to alert your audience of an event, display advertisement, advise of a deal, share some information or just plain entertain!  
This Popup Widget will apply to ALL Flipbooks under the Folder when they first load, and will display whether you are using a regular link to first page or a direct page link. See below for example.
Ready to create your Welcome Popup Widget?
Step 1 - Edit Your Folder
Select Flipbooks > Manage Flipbooks
Select Folder to Manage (if applicable)
Select Edit > Widgets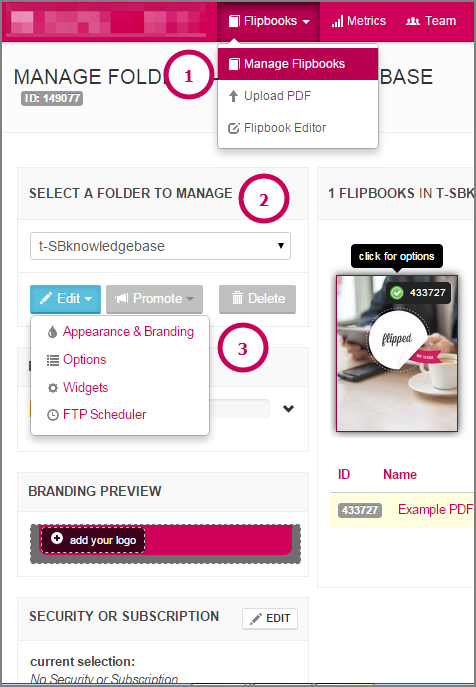 Step 2 - Go to Widgets > Welcome Popup
Check off the "activate the welcome popup widget" checkbox. Then set up your welcome popup by doing the following (refer to the screenshot below):
(1) Enter your embed code in the text box
This field will accept html/css/javascript, references to external content like images, video, animations etc.   If you don't know how to do any of this, even simple text message will display
Note: Mobile Support added June 12, 2013.  Mobile version does not support native scrolling/scrollbars on the popup so please be aware of that limitation and adjust your widget source code accordingly to something that can work with both Desktop and Mobile Platforms.
(2) Specify a width and height (in pixels)
Define the size of your popup in pixels.  Best not to use dimensions larger than 900X550 px
(3) Specify a timeout (in seconds)
Leave the value at 0 to force the user to close out the window and begin reading your Flipbook
Enter a value in seconds for the message to automatically close after that time period
(4) Hit the Save or Cancel Button once completed
Video Tutorial